edc3edc3
Welcome to our website - which is getting bigger and better all the time.
Please have a look around and let us have any comments or suggestions you
may have to help us improve the website or the shop.
Thank you for your interest.......we are on Facebook for anyone who wants to follow us - click the link at the bottom of the page!
Do not forget to check out our range of herbal remedies - highly recommended!
See what Lizzie is up to here

About us
We are a small pet shop in Plymouth, who are large on knowledge and service.
We cater for most popular pets, cats, dogs rabbits, guinea pigs and so on. Unfortunately we do not cater for reptiles at this time.
We are canine nutrition specialists, with the qualifications and experience to prove it. Lizzie is available to help with anal gland problems
Our opening hours are: 9.30 am to 5.00 pm Tuesday to Friday, and 9.30am to 4.00 pm on Saturday with no break for lunch
We are closed on Sundays, Mondays, and Bank Holidays.
Us and our pets
My name is Keren Delamare and I live with my husband Ray Delamare,
who owns a hardware store called Reads DIY in Higher Compton
I studied for a City and Guilds Stage 2 in Canine Studies in 1997 and I have recently
passed a Diploma in Companion Animal Bereavement Counselling. I also have a passion for stained glass work (see at www.glow-worm.co.uk)
We have six children between us, five boys and a girl and this is just a little bit about the history of Bellas. We are proud to be one of the longest independent shops - 24 years and counting!
The Pets
Bella was born on the 7th June 1994 at the old Plymouth and District Cats and
Dogs Home in Cattedown. I had always been owned by cats but when I saw
Bella at 6 weeks old I fell in love with her. She was a great chewer of
inappropriate things which culminated in her being admitted to the
Veterinary Hospital at Estover having eaten a piece of the children's toy
railway track. Luckily nature took its course and surgery was not necessary!
She was there in the darkest of times and the best of times for me and
she truly was my best friend. When she had to have surgery to remove a lump
from her side I was frantic all day, but all was well. I had no idea how
attached and besotted you can become with a pet. I loved all my cats but
Bella really was something else. We lost her 2010 on January 20th to kidney disease, it was very sudden but she passed away with great
dignity just 0as she lived all her life.
It was suggested to me when Bella was a year old that perhaps dogs should
not be kept alone, so I went back to the Cats and Dogs Home and found a
shivering little lump in the corner. Her name was Sophie, she was a
Yorkshire Terrier and she had just been handed in. Well, I had to have her
and two days later she came home with me. She quickly settled in. Sophie
would hear a snail sneeze two miles away and will bark just to let us know!
Luckily this was a day time occupation only. Bella soon picked up the barking
habit and they shouted away happily at every opportunity!
Sadly Sophie passed away on the 13th December 2006 and I miss her dearly.
She was a really big comfort to me when I was suffering horrible migraine attacks,
she would just cuddle into me and be a lovely 'hot water bottle'!
In October 1995, my cat Sadie died of kidney failure which was a very dark
day. She had lived with my (then) fiancé Ray. We decided to adopt another cat
and so we went to Fursdon Kennels (now a housing estate......progress?) which was the RSPCA rehoming centre.
I found it too painful to look at the cats in the Cattery so I asked to go to the
Kennels to see the dogs. When I walked into the Kennels I came face to face
with the prettiest dog I had ever seen. She was a Greyhound crossed with
(probably) a Staffordshire Bull terrier. She had only one back leg and was
very thin and looked miserable. I wanted her so much! Ray had found a
beautiful tortoiseshell cat called Fern and we had applied to take her home.
Ray thought Goldie was beautiful, too so we had along chat with the owner
of the kennels, and we went away to think about it. I think
Ray knew what the outcome was going to be!
We brought her home for a weekend and she was as good as gold. Of course
in my naiveté I thought every thing was going to be plain sailing. Ha! Goldie
was the most destructive dog I had ever known! I had no idea
what havoc could be wreaked with just one dog. Sofas cushions cars and even money!.
Soon after I took Goldie home I saw the kennel owner at a dog show and I asked
for job and luckily there was a vacancy for me at Fursdon as a kennel hand.
I used to take Goldie to work with me and she struck up a very close
friendship with another greyhound cross German Shepherd called Kernow. To cut a long story
short Kernow came to live with us and GUESS WHAT? Kernow was as
destructive as Goldie!!!! So we could not leave either alone in the house! We soon learned about crate training and we all lived happily ever after - ish
Well 2010 was a very sad year as we lost Bella, Goldie and Kernow. They came to us at roughly the same age so of course we lost them all about the same time. Home is very quiet.
In the meantime we have had rats, hamsters, gerbils mice and chinchillas
from the RSPCA and friends. All special in their own right.
In 1997 we fostered a Cinnamon Trust poodle called Mitzi who lived with us
for a year until his death at 16 years old. Then we acquired Ozzy in 1999
who was a long legged Jack Russell, he had loads of personality we compared
him to Victor Meldrew i.e a grumpy old man! He passed away, again, through kidney failure in 2009.
If you go to our news page you will find some pictures of the dogs.....
We had a beautiful blue/grey cat called Tina and we lost her in 2011 she was about 16
I had the worlds greatest artistic director in Lizzie.............but much more of her later she merits a chapter of her own!
In 2013 Tanya joined us. Tanya has a background in merchandising and many other things and has a talent for knowing what would look good where and constantly amazes me! We have tried to learn from her but it is a unique talent. She works on Wednesdays now
UPDATE July 2021
Obviously on updating the web page I have to say something about the last 2 years and living with Covid 19. We were lucky that we were able to say open....but would the customers still come? I was staggered by the support we had not just from regular customers. Its only right that I should thank every single person. I do believe the local shop has proved its worth to the community. Unfortunately half way through the pandemic in February 2021 I had a stroke so poor Tanya found she was 'it' as far as the shop was concerned as Lizzie was shielding at the time. Luckily I have recovered well and I have come back to work. Video calling was so helpful. Technology has raced on since I first opened the shop the changes are incredible. I am a bit of a technophobe and we try use good old paper and pen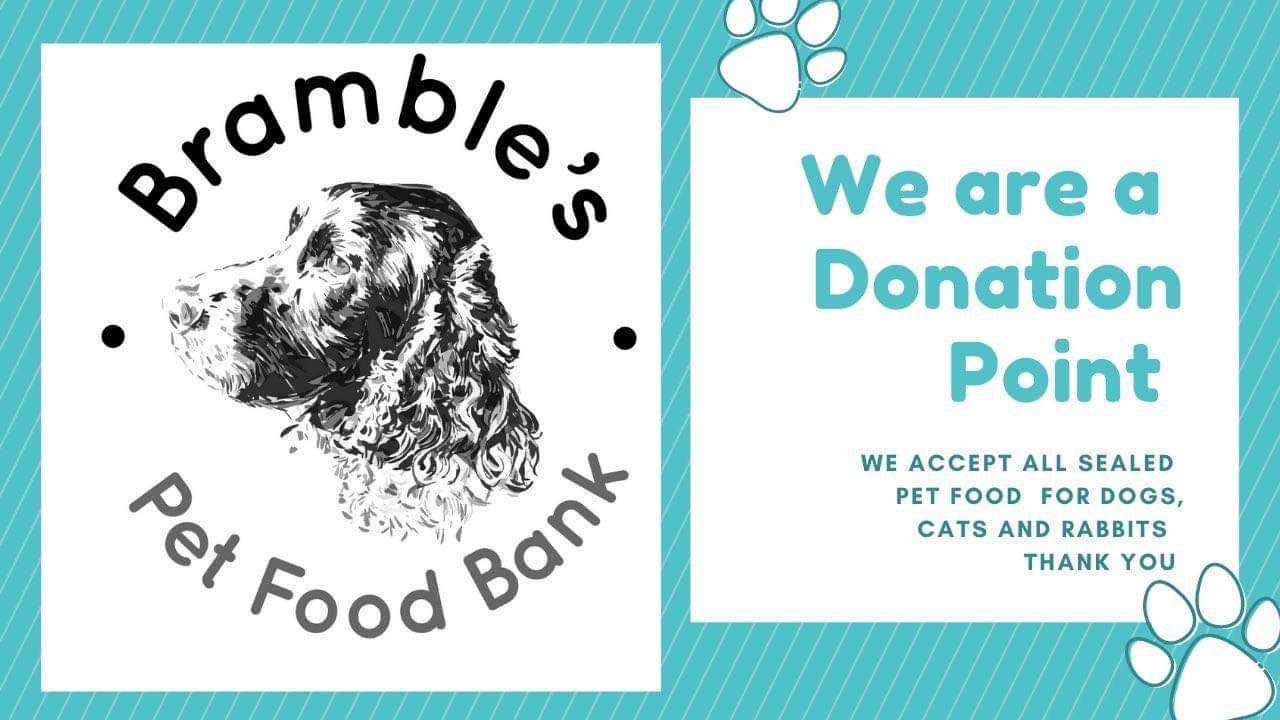 In November 2020 Jo Butler set up Brambles Pet Food bank to help struggling owners feed their pets in times of need. I am proud to be a donation point and there is 10% off all products bought through Bellas. There is also an Amazon wish list
DIXIE
In January 2011 we adopted a beautiful Greyhound/Rottweiler called Dixie from the Margaret Green Foundation Trust in Dorset. After having elderly dogs it was amazing to have a young girl jumping around. We picked her up just as the really bad weather was setting in, I realised I was soooooo out of condition from having elderley dogs! She was a young dog about 12 months old - well she is just great! We had her DNA tested last month - it was like being a five year old waiting for Christmas while we waited for the results. She is a staffy/greyhound/boxer/bulldog Rottweiler! There were five other breeds detected, welsh terrier, Lancashire heeler, American bulldog, whippet and finally great Pyrenean mountain dog! A lovely healthy mongrel! I can recommend the DNA testing system. Dixie was always going to be mainly my dog to come to work with me and hopefully bond well with me. Unfortunately in Oct 2011 I broke my leg quite badly and I wasn't able to do very much for her. Inevitably she is now totally Daddies girl and goes to Reads with Ray. She is very sensitive and really struggles with firework night - or season as it appears to be now. I can personally recommend scullcap and valerian tablets with valerian compound sprinkled on her bedding. She is now nearly 14 and really is the perfect dog, actually she is more like a cat! We now also have 2 tortoisesn never even thought you could fall in love with a shelly reptile but you really can We have our hearts in our mouth whenever its hibernation time but at 27 I think they are ok and know what they are doing
History of Bella's
Every year Ray and I go to Morton-in-Marsh in Gloucestershire. There is a
pet store there on the High Street called Pet Necessities and it is a wonderful shop
crammed with pet requirements and gifty ideas. This combination was
exactly what I had in mind when I had said I wanted to start a pet store many
months before. The couple that owned the shop were so helpful in giving us the
contacts that we needed both for giftware and everyday pet provisions.
When we came back to Plymouth we started seriously looking for premises
and after many viewings and disappointments I happened to be driving past this
shop when I saw it was for let. We viewed it on the Monday, took it on the
Tuesday and signed the lease the following week. One of the main attractions
is that you can park right outside, high on our list of criteria. Plymouth City Council very helpfully put bollards on the pavement outside my store but it is perfectly safe and legal to park outside as yet there are no yellow lines
The size was just right. I did not want to stock animals so it really was just a
matter of acquiring stock and advertising. Sounds easy but it all takes time.
I was like a child in a sweetie shop when I started looking at catalogues and
I must admit that feeling is still with me!
23 years ago I found the perfect employee in Lizzie Abbott who worked Mondays and Wednesdays. Liz retired in June 2013 to move by the sea in Cornwall. She is living the life she deserves!! Needless to say I miss her terribly she was there in some of the best and the worst days of my life and I like to think I supported her, too.
Lizzie had a beautiful English Bull Terrier called Brodie who also passed away in 2010 at 13 years old. I think we can safely say 2010 was a pretty awful year for both of us. gorgeous miniature Henry the dachshund owns her now and loves the beach as much as she does!!
To see Lizzie's blog click here
Please read on and make sure you look at the information at the end of the news page, feel free to print the greyhound action leaflet and pass it
around.
"All that is necessary for the triumph of evil is that good men do nothing" (Edmund Burke) Motto of South Devon Greyhound Action Group
Bellas Pet Supplies
Promote your Page too

xxx
Contact Information
Telephone

01752 783481

Postal address

54a Bickham Park Road, Plymouth, PL3 4QL

Electronic mail

General Information: mail@bellas-pets.co.uk

Facebook

Bellas Pet Supplies

I try to answer all communications as soon as possible